About the Project
The Hyatt Regency Salt Lake City is a landmark project in downtown Salt Lake City that has changed the city's skyline with its exterior glass facade reflecting the cityscape and mountains. At 686,784 SF in total, the 25-story hotel has 700 guestrooms and more than 60,000 SF of meeting space. Amenities also include a 23,000 SF Regency Ballroom with natural light and 22-foot ceilings, a warm and inviting hotel lobby and reception area consisting of luxury stone and wood finishes. The Hyatt Regency Salt Lake City includes a 24-hour fitness center, multiple restaurants and bars, a gourmet market, an outdoor pool and event terrace and one level of underground parking.
"On the Hyatt Regency Salt Lake City project, Hensel Phelps' consistent engagement and collaboration from preconstruction through construction provided the key stakeholders cost and schedule certainty. Ultimately, this resulted in the project being delivered ahead of schedule and under budget, despite the challenges of the COVID-19 Pandemic and seemingly uncontrollable labor and supply chain conditions."
ALI STREETMAN, VICE PRESIDENT OF CONSTRUCTION AT PORTMAN HOLDINGS
Challenge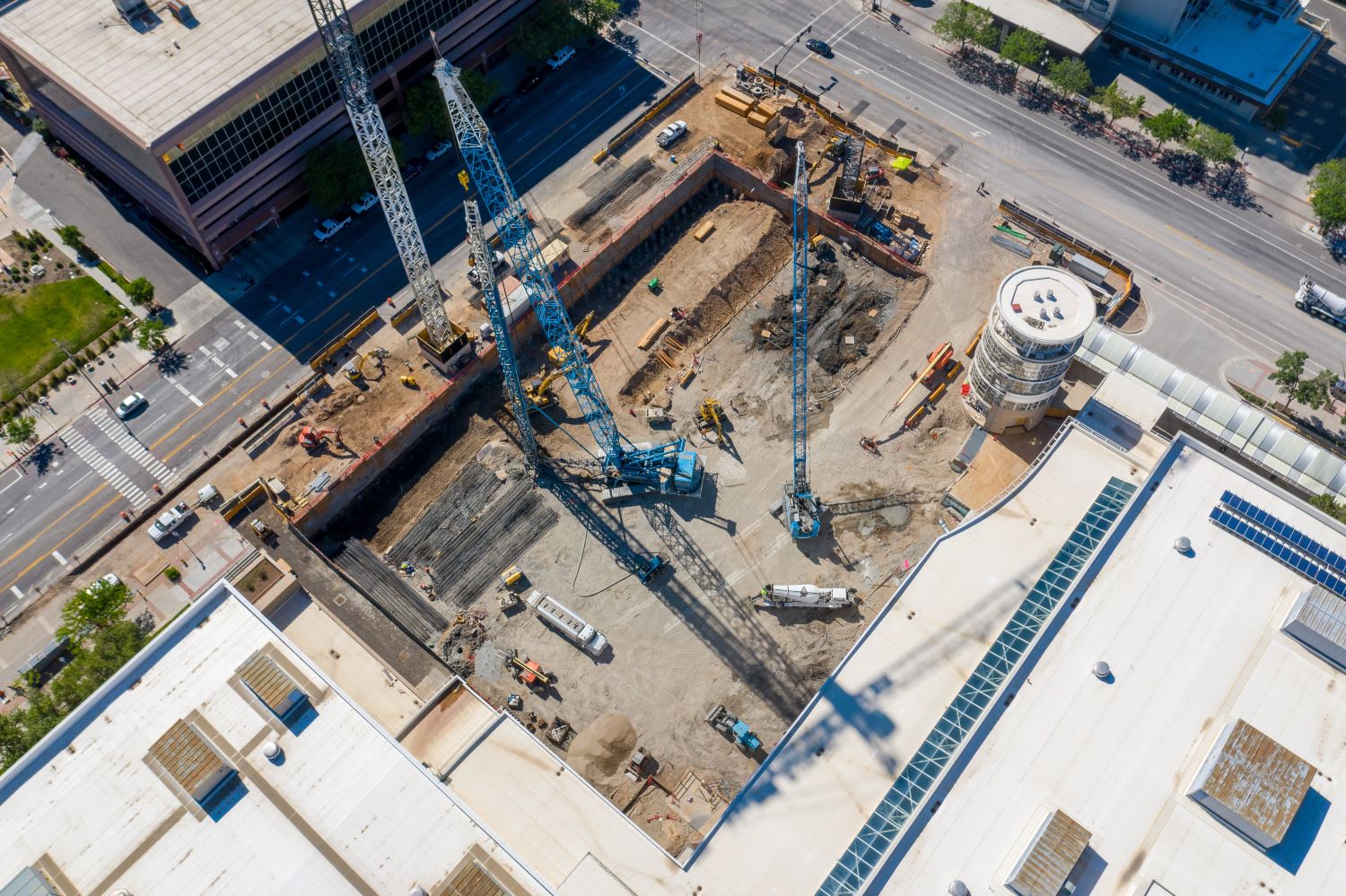 Tight Site with Critical Structural Milestone
The project site had significant constraints being in a downtown environment adjacent to the Salt Palace Convention Center on two sides. Coupled with a structure that is designed to resist high seismic activity, the project team had several unique challenges in the initial phase of the building's foundation and superstructure, specifically erecting long-span trusses.
Solution
Collaborative Planning
To achieve the open "column-less" space in these ballrooms, the design included 13 long-span trusses, with the heaviest weighing approximately 190,000 pounds. In addition to the truss weight, the tight site constraints presented by the location and the existing Salt Palace and installation above the building's new basement presented a unique challenge for the project team when it came to the safe and efficient erection of these trusses.
Through more than 11 months of planning, Hensel Phelps and the structural steel trade partner, Schuff Steel, developed a comprehensive crane and erection plan that consisted of 170 pages of details and instructions. This plan required the installation of 28 shoring towers in the building's basement below the level one concrete deck in conjunction with structural steel grillage above the level one concrete deck, all to support the 300-ton crawler crane selected to erect the trusses. In total, the weight of the crane and one truss section exceeded 1,290,000 pounds, leading to extreme caution throughout planning and construction of this activity.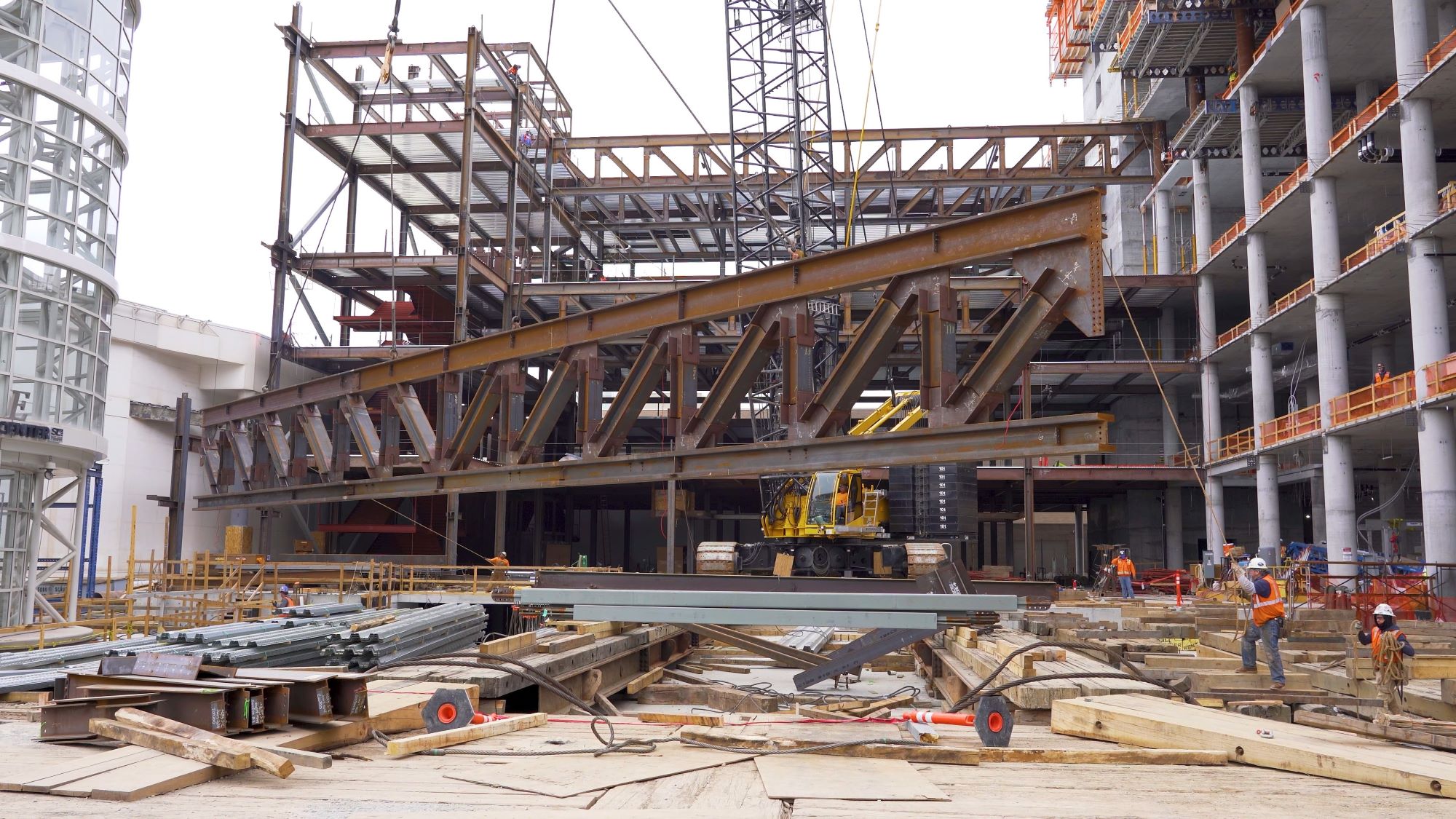 Results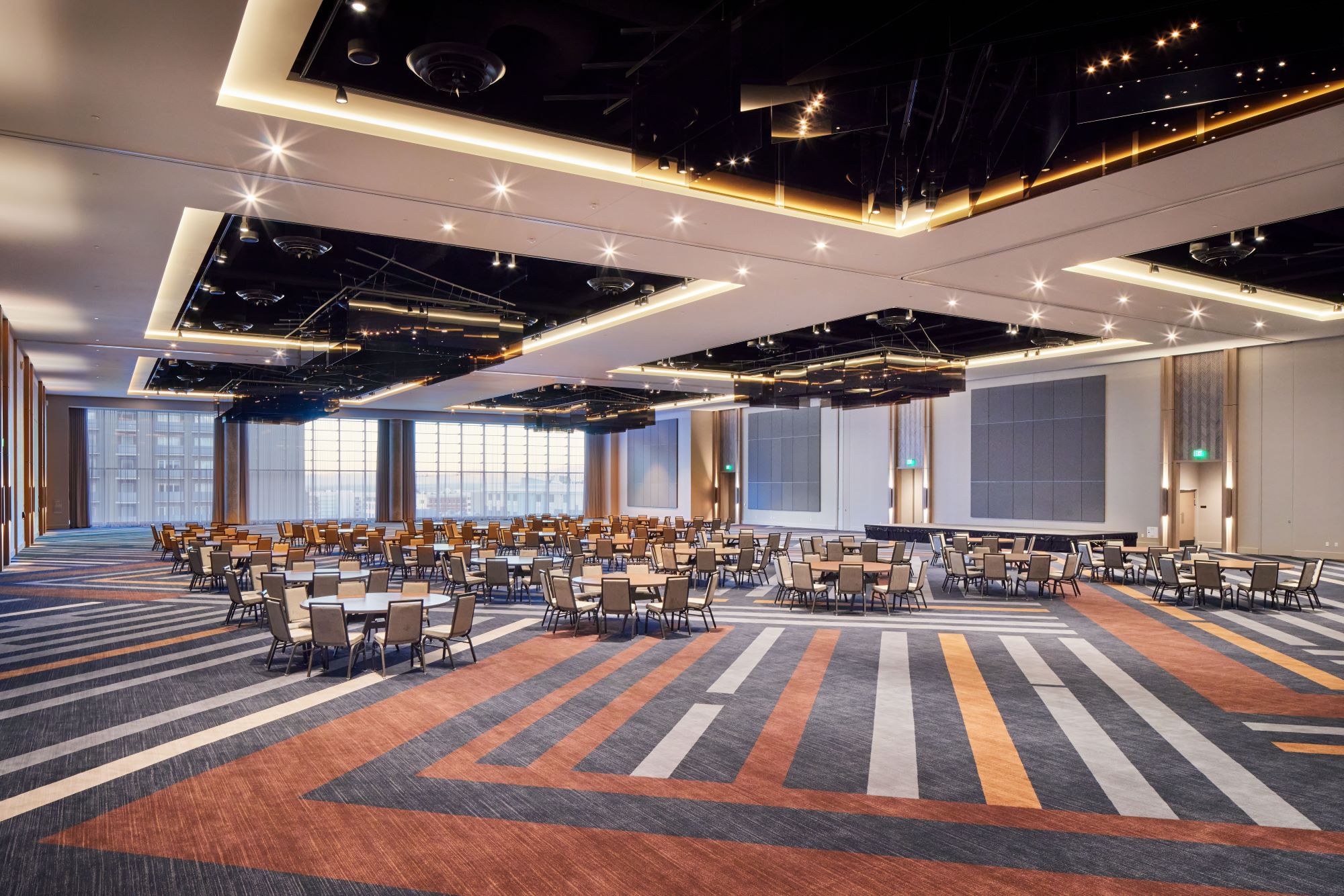 Column-Less Ballrooms to Accommodate More Events
Many challenges were faced throughout the course of project construction, including an earthquake, a global pandemic resulting in unprecedented supply chain disruption and labor shortages and building complicated and expansive ballrooms. Despite these challenges, the 32-month construction schedule established by the owner in January 2020 was met and the project team successfully delivered this landmark project ahead schedule and under budget.